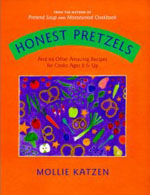 My children both love to cook as I do. They started learning early, pulling stools up next to me while I cooked from the time they were toddlers. So I'm always interested in resources that teach them more about cooking. Honest Pretzels is one of three cookbooks written by one of my favorite authors
Mollie

Katzen
. These cookbooks are Pretend Soup (for preschoolers), Salad People (for children 8 and up) and the aforementioned Honest Pretzels (also for 8 and up).
The recipes in this book are in a sort of "story board" fashion. You can see an example of a recipe from Pretend Soup
here
. The cookbooks are referred to as vegetarian but are not vegan although there are many vegan recipes.
Both my children (9 and 6) love the cookbooks and we all enjoy what has been made from them. My daughter most recently made Button Cupcakes from Honest Pretzels which is a simple vanilla cupcake with a chocolate kiss pushed into the center before baking. Her 6 year old brother helped her with that last part. And they were delicious. As was the Mix in the Pan Chocolate cake she made last week from the same cookbook. So give these books a try. I think you and your children will love them.